Soldier Honored: Jesse J.J. Castro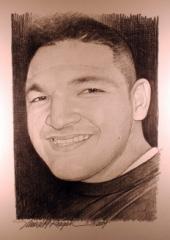 Dates:
1984-December 6, 2006
Hometown:
Chalan Pago, Guam
Branch of Service:
Army
Rank:
Sergeant
Sergeant (SGT) Jesse Joel Jesus Castro, 22, from Chalan Pago, Guam, enlisted in the United States Army in 2003 and was stationed in Schweinfurt, Germany. He was later assigned to the 2nd Battalion, 27th Infantry, 3rd Infantry Brigade Combat Team, 25th Division, Schofield, Hawaii. He was a great man with many wonderful qualities and a natural leader who was willing to help out anyone in need. On his second tour in Iraq, SGT Castro and four others died on December 6, 2006 of injuries sustained when an improvised explosive device detonated near their vehicle while on patrol in Jawijah, Iraq.

A 2003 graduate of Evangelical Christian Academy, SGT Castro was a member of Guam's Junior National Baseball team, as well as the Tamuning Eagles and Pepsi Giants football teams. His passion for the mixed martial arts was remarkable and only equaled by his skill and success in the sport, all of which will forever be remembered by his fellow fighters, but especially by those who faced him in the ring.

Two weeks after SGT Castro was lost, his wife gave birth to their only child who is a Folds of Honor Children's Fund scholarship recipient.