Soldier Honored: Jeffery A. Lucas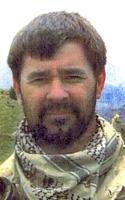 Dates:
1972-June 28th, 2005
Hometown:
Corbett, Oregon
Branch of Service:
Navy
Rank:
Petty Officer 1st Class (SEAL)
It was a beautiful April day on the golf course when Petty Officer 1st Class Jeff Lucas received the orders for a six-month deployment to the Middle East. The 33-year-old from Corbett, Oregon was assigned to SEAL Team 10 out of Virginia Beach, Virginia. His team only had two days to get ready for their assignment. On June 28th, 2005, in support of Operation Red Wings, 16 Special Operations Forces (eight SEALS and eight Army Night Stalkers), boarded a helicopter in broad daylight to rescue teammates Marcus Luttrell and three other SEAL team members who had been pinned down by Taliban and al-Qaida fighters while on a reconnaissance mission. While ferrying personnel to the battle in their MH-47 Chinook helicopter, enemy fire (possibly a rocket-propelled grenade) brought the aircraft down killing everyone on board. Of the four SEALs on the ground, Marcus Luttrell was the only survivor. It was the worst loss for elite Navy forces since World War II.

Petty Officer 1st Class Lucas graduated from Corbett High School in 1989 where he was a local "legend" for his athletic prowess in football, basketball, baseball and track. Eight weeks after graduation, Lucas enlisted in the Navy. He completed basic training at NTC Orlando, Florida and graduated with Class 191 from Basic Underwater Demolition/SEAL in Coronado, California in January 1994. From 1994 to 1999 Lucas served with SEAL Team ONE in San Diego, California. In 1999 he moved to the east coast where he served with SEAL Team EIGHT before joining SEAL Team TEN in March 2002. In 2004, Petty Officer 1st Class Lucas was named Navy SEAL of the Year. He also received the Bronze Star and the Purple Heart. Besides golfing, Lucas enjoyed riding dirt bikes and snow mobiles as well as fishing in his spare time.

Both Petty Officer 1st Class Lucas' widow and son are recipients of Folds of Honor scholarships.