Soldier Honored: Jason J. Buzzard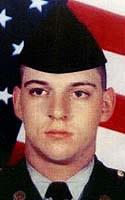 Dates:
1975-June 21, 2006
Hometown:
Constantinople, California
Branch of Service:
Army
Rank:
Sergeant
Assigned to 2nd Battalion, 8th Infantry Regiment, 2nd Brigade Combat Team, 4th Infantry Division out of Fort Hood, Texas, Jason Buzzard held a credo of God, country, others and self. He served as a combat engineer whose job was to build bridges, reinforce infrastructure, train Iraqi counterparts and "generally blow stuff up," he liked to say.

Buzzard, 31, from Constantinople, California, was commanding a convoy of four HEMTT cargo vehicles on June 21, 2006 when the lead vehicle in which he was traveling struck and detonated an improvised explosive device on a road outside Baghdad's city center. Seated in the front passenger position, his body absorbed most of the force of the blast, killing him instantly.

On his final leave in May 2006, Buzzard was able to watch his son, Tristan, play catcher at two of his little league baseball games and his daughter, Michala, play outfielder at her softball game. "He enjoyed watching his children play their sports and other 'dad' things," said his high school sweetheart and wife, Michele. Buzzard enjoyed bowling, fishing and diving for abalone off the northern California coast. The family lived in Colorado for five years and then a year in Korea after Buzzard's 1995 enlistment.

Sergeant Buzzard's daughter is a Folds of Honor scholarship recipient.