Soldier Honored: Danial R. Adams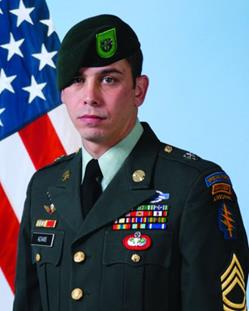 Dates:
Hometown:
Hillsboro, Oregon
Branch of Service:
Army
Rank:
Master Sgt.
Known as "Slim" for his slight build, Master Sergeant (MSG) Danial Adams, a father of three, was remembered as a loving husband, devoted father and an exceptional Special Forces warrior. MSG. Adams, 35, of Hillsboro, Oregon was a member of Bravo Company, 1st Battalion, 10th Special Forces Group (Airborne), and the son of a Vietnam veteran. He died September 13, 2011 while leading a team of 12 Special Forces soldiers on a mission in Wardak Province, Afghanistan where they were attacked by a group of insurgents and engaged in an intense firefight.
Known as a "fearless adventurer," MSG Adams was an avid snowboarder and skateboarder when he was young. He joined the military after high school in 1995 as an infantryman with the Third Battalion, 75th Ranger Regiment, in Fort Benning, GA. He earned the Green Beret honor in 2005 and served in his first Special Forces assignment as medical sergeant with the Third Special Forces Group (Airborne) at Fort Bragg. In 2009 he transferred to Stuttgart, Germany where he deployed once to Iraq and twice to Afghanistan.
Adams is survived by his wife, two sons and a daughter. His wife is a Folds of Honor scholarship recipient.