Soldier Honored: Micahel S. Curry Jr.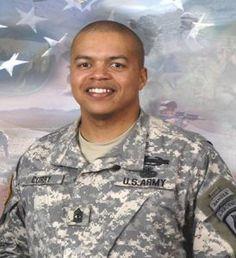 Dates:
1970-2007
Hometown:
Hollywood, Florida
Branch of Service:
Army
Rank:
First Sergeant
According to a soldier who served under First Sergeant Michael S. Curry, 37, he was "always looking out for his men - more so than himself. Even though he knew the dangers, he continued to serve and do everything he could." While assigned to 1st Battalion, 503rd Infantry Regiment (Airborne), 173rd Airborne Brigade Combat Team, Vicenza, Italy, in 2007 1SG Curry died in the Sarobi District, Afghanistan of wounds sustained when an improvised explosive device detonated near his vehicle.

1SG Curry was the second of four children born in Hollywood, Florida where he graduated from Hollywood Hills High in June 1987. Upon graduation he began his military life by enlisting in the U.S. Army in August 1987. He went on to have a distinguished career, serving in numerous combat zones around the world from Desert Storm to Iraq and Afghanistan. Through the course of his distinguished service, he rose through the ranks to become First Sergeant. In addition to his long list of military training, he earned an Associates of Arts Degree from the University of Maryland while on Active Duty. Those who served with him referred to him as a "Soldier's Solider." 1SG Curry received numerous awards and accolades throughout his military career including the Ranger and Airborne Tabs.

1SG Curry is survived by his wife and two sons. Both sons received the Folds of Honor Higher Education scholarships.