Soldier Honored: William J. O'Brien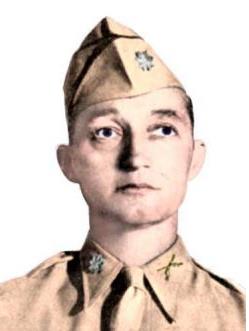 Dates:
1899 – July 7, 1944
Hometown:
Troy, New York
Branch of Service:
Army
Rank:
Lt. Colonel
William Joseph O'Brien (1899 – July 7, 1944) was a United States Army officer and a recipient of the United States military's highest decoration—the Medal of Honor—for his actions in World War II during the Battle of Saipan.

O'Brien joined the Army from his birth city of Troy, New York, and by June 20, 1944 was serving as a lieutenant colonel in the 1st Battalion, 105th Infantry Regiment, 27th Infantry Division. On that day, on Saipan in the Marianas Islands, he braved enemy fire to reach several American tanks which were unknowingly firing on their own troops. The next week, on June 28, he orchestrated and personally led an attack on a Japanese held ridge. When his battalion came under attack from a much larger enemy force on July 7, he refused to leave the front lines even after being wounded, and continued to lead his men until being overrun and killed. He was posthumously awarded the Medal of Honor on May 9, 1945, for his actions throughout the battle for Saipan.
The U.S. Army ship USAT Col. William J. O'Brien, which served in the Pacific Ocean at the end of World War II, was named in his honor. O'Brien, aged 44 or 45 at his death, was buried at Saint Peter's Cemetery in his hometown of Troy, New York.