Soldier Honored: William A. Zapfe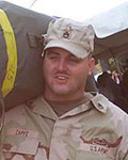 Dates:
June 19, 2007
Hometown:
Covington, KY
Branch of Service:
Army
Rank:
Sgt. 1st Class
Sergeant First Class (SFC) William A. Zapfe, 35, was born in Covington, KY and joined the Army in 1991, serving the last 12 years at Fort Stewart, working as a combat engineer.  Zapfe was assigned to 1st Battalion, 30th Infantry Regiment, 2nd Brigade Combat Team, 3rd Infantry Division, out of Fort Stewart, GA.  He was on his third tour to Iraq, riding in a Bradley Fighting Vehicle when it ran over an improvised explosive device.  The driver of the tank and SFC Zapfe died on June 19, 2007, in Muhammad al Ali, Iraq, of wounds they sustained from the blast.

A 1990 graduate of Priest River Lamanna High School, SFC Zapfe was considered a great father and a great man who loved his country and was honored to defend it. "He lived his life to serve others," said Kevin Jackson, a former soldier who served with Zapfe. "He was as selfless a man as I've ever seen. That's why these men wear these uniforms."  SFC Zapfe met his wife while stationed at Fort Knox, KY, where he did tank training and the couple had three children.

SFC Zapfe is survived by his wife, two sons and a daughter. His wife is a Folds of Honor Higher Education Scholarship recipient.