Soldier Honored: Theodore B. Rushing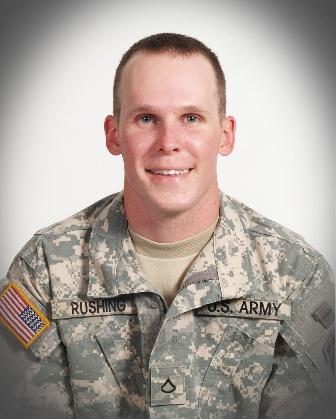 Dates:
January 15, 1986 - November 11, 2011
Hometown:
Orlando, FL
Branch of Service:
Army
Rank:
Private First Class
Army Private First Class Theodore "Teddy" Rushing was born in Orlando, Florida on January 15, 1986.  He enlisted in the Army in 2011 and graduated from basic training at Ft. Knox, Kentucky.  He was assigned to the famed 10th Mountain Division in Ft. Drum, New York as a cavalry scout.  In August of 2011, he was deployed to Afghanistan. On November 11, 2011 (Veteran's Day) Pfc. Rushing died from wounds caused by an IED while running a mission in enemy held territory.

Teddy graduated from Altamonte Christian School in 2005.  After Teddy's passing, a ROTC program was started there and named in his honor.  After graduating high school, Teddy received his associate's degree at Seminole State College. Pfc. Rushing preferred to be outdoors, he loved to ride his BMX bike and surf. Growing up in Orlando, Teddy was always something of a daredevil, according to his father, Rick Rushing. "He was one of those kids who'd be bungee-jumping, skateboarding or jumping off the roof."

He was placed into the 10th Mountain Division Hall of Honor, was awarded the Bronze Star, Purple Heart, NATO Medal, Afghanistan Campaign Medal, Army Service Ribbon, Overseas Service Ribbon, Army Combat Action Badge, and Combat and special skill badge, weapons expert and overseas service bar.