Soldier Honored: Brian R. Bates Jr.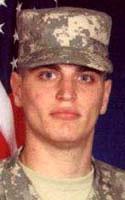 Dates:
October 27, 2009
Hometown:
Gretna, Louisiana
Branch of Service:
Army
Rank:
Private First Class
Private First Class Brian R. Bates, Jr. of Gretna, Louisiana, joined the United States Army in November 2008. He was assigned to Ft. Lewis, Washington, as a ground combat trooper with the 2nd Infantry Division. In July 2009, he was sent to Forward Operating Base Ramod in southern Afghanistan, serving as a member of Alpha Company, 1st Battalion, 17th Infantry Regiment, 5th Stryker Brigade Combat Team.

On October 27, 2009, he was at the controls of a Stryker armored vehicle in the enemy-infested territory of Kandahar, investigating reports of terrorist forces operating in his unit's tactical area of operations. Enemy troops engaged Bates and his men, employing improvised explosive devices which killed Bates and seven other American soldiers. Added to the already great loss of life during that October, this proved to be the deadliest month of the war at that time.  PFC Bates, Jr. was highly decorated for his combat service, even though it was brief. He received the Bronze Medal and the Purple Heart among other commendations.

Bates was married to Enjolie, and they have two children, both of which are Folds of Honor scholarship recipients.