Soldier Honored: Mycal L. Prince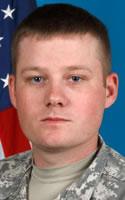 Dates:
September 15, 2011
Hometown:
Minco, Oklahoma
Branch of Service:
Army
Rank:
Sgt.
Prince, 28, was a member of the Oklahoma National Guard in Stillwater who was serving his country as an infantryman after being deployed to Afghanistan.  On September 15, 2011, Prince was conducting combat operations in the Saygal Valley, Laghman Province of Afghanistan when insurgents attacked the vehicle in which he was traveling with small-arms fire and rocket-propelled grenades, killing him and another soldier.

A policeman for two years in the town of Minco, Oklahoma, Prince served as a K-9 officer in civilian life.  With his dog, Bayca, Prince helped with drug interdiction in the small town.  Concerned with the well-being of others, he volunteered with recovery efforts in New Orleans following the aftermath of hurricane Katrina.



Prince's two daughters are both Folds of Honor scholarship recipients.