Soldier Honored: Michael R. Cardenaz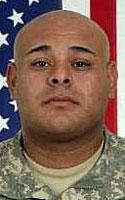 Dates:
February 20, 2010
Hometown:
Corona, CA
Branch of Service:
Army
Rank:
Staff Sgt.
A bald, bull of a guy, Staff Sergeant (SSG) Michael Cardenaz, 29, told a Colorado reporter in 2009 that he was an "old-school" soldier.  His last assignment was to 2nd Battalion, 12th Infantry Regiment, 4th Brigade Combat Team, 4th Infantry Division in Fort Carson, CO. Over his career, SSG Cardenaz had served in Kosovo twice and Iraq twice.  He was in the middle of an Afghanistan tour when he was killed in Kunar province by a rocket-propelled grenade on February 20, 2010, about a month before he was to return home.

Born and reared in Corona, CA, SSG Cardenz was a 1998 graduate of Corona High School, where he wrestled and played football.  All he wanted to do when he turned 18 was to enlist in the Army.  He wanted to get out of the house and see the world.  He wanted to make the Army a career and would have signed up for life if he'd been allowed.

SSG Cardenaz is survived by his wife and three daughters.  His daughters are all Folds of Honor Children's Fund Scholarship recipients.