Soldier Honored: Matthew I. Pionk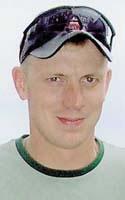 Dates:
January 9, 2008
Hometown:
Oliver, WI
Branch of Service:
Army
Rank:
Sgt. 1st Class
Sergeant First Class (SFC) Matthew I. Pionk, 30, was a native of Oliver, WI, a small town near Superior.  Two years after high school graduation SFC Pionk enlisted in the Army. Throughout his career, SFC Pionk was highly decorated and rose up the ranks quickly due to his natural ability to lead. Many who knew him described him as a one of a kind soul and a bold leader.  He earned a Bronze Star during his first tour of duty for helping a fellow soldier who was injured.  SFC Pionk was a Platoon Sergeant assigned to the 3rd Squadron, 2nd Stryker Cavalry Regiment, 1st Armored Division out of Vilseck, Germany.  He and five others died January 9, 2008, in a blast during a renewed push against al-Qaida strongholds outside of Baghdad.

A 1996 graduate of Superior High School, SFC Pionk enjoyed playing basketball, hunting, and working on cars.  During high school, he restored a 1970 Chevy truck.  He married Melanie Lewis in March, 1998, and was on his second tour of duty in Iraq when he was killed.  SFC Pionk had been in the army for nine years.

SFC Pionk is survived by his wife and three children, one of which is a Folds of Honor Higher Education Scholarship recipient.