Soldier Honored: Christopher D. Henderson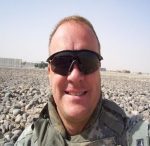 Dates:
June 17, 2007
Hometown:
Hillsboro, OR
Branch of Service:
Army
Rank:
Sgt. 1st Class
Sergeant First Class Christopher Henderson, 35, was assigned to 1st Brigade, 1st Infantry Division (Transition Team), Fort Riley, KS.  The Hillsboro, OR, native and two others died June 17, 2007, in Panjway, Afghanistan, of wounds sustained when an improvised explosive device detonated near their vehicle.  Henderson was always willing to help anyone. According to his wife Jennifer, "Once on a deployment to Kosovo, he told me that a local family's son had been killed and no one in the family knew how to tie a tie. Chris stepped up and tied the tie for them." She also said, "Chris always had a smile on his face and never really had any enemies because of it."
A 1991 graduate of Glencoe High School, SFC Henderson was a diligent student, always did his homework and, of course, kept his room clean.  He competed in track and field was a favorite with his high school girlfriends' parents.  SFC Henderson joined the Army right after graduation and quickly rose through the ranks.  He attended Airborne School, Air Assault School and then went to school to become a drill sergeant.  He deployed to Kuwait, Egypt, Kosovo, and Bosnia before being sent to Afghanistan.
SFC Henderson is survived by his wife and stepdaughter.  His wife is a Folds of Honor Higher Education Scholarship recipient.