Soldier Honored: Alan B. Rowe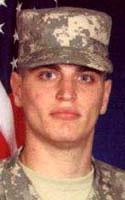 Dates:
September 3, 2004
Hometown:
Branch of Service:
Marine Corps
Rank:
Capt.
A weapons company commander for the 1st Battalion, 7th Marine Regiment, 1st Marine Division, 1st Marine Expeditionary Force, based out of Twenty-nine Palms, California, Captain Alan Rowe, 35, of Gooding, ID, was a veteran of four overseas deployments who was sent to Iraq in August of 2004.  A few short weeks later, on September 3, 2004, Rowe and two other Marines were killed by a remote-controlled explosive device while inspecting a secured bridge in Anbar province, northern Iraq, near the Syrian border.

A 1985 Marine Corps enlistee, Captain Rowe, graduated from Gooding High School.  He then attended the college of Southern Idaho and Boise State University where he earned a degree in political science, and in 1994 graduated from officer candidate school.

"He was a quiet, humble person and extremely polite," according to his widow.  "He was really driven and believed in what he did.  He was a Marine's Marine," added a close friend.  Captain Rowe was posthumously promoted to the rank of Major after his death.  He leaves behind a wife and two children who were Folds of Honor Children's Fund Scholarship recipients.