Soldier Honored: Raymond D. Hill II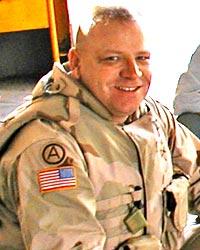 Dates:
October 29, 2005
Hometown:
Ceres, California
Branch of Service:
Army
Rank:
Capt.
Captain Raymond D. Hill, 39, of Ceres, California, wrote in a letter to his wife, "I know you think I see this as just a big adventure and a carefree event for me. I admit I was willing to go. After all, this is what I have trained for, for the past 18 years.... If I did not go, someone else would have to." This was just one example of CPT Hill's attitude as a leader, putting the mission first and others before himself. His last assignment was with the 1st Battalion, 184th Infantry Regiment, California Army National Guard, Modesto, CA. CPT Hill died on October 29, 2005, when an improvised explosive device detonated near his Humvee during patrol operations in Baghdad. CPT Hill was on his way to deliver educational supplies and humanitarian aid to Iraqis affected by military operations, officials said.

A track athlete in high school, CPT Hill joined the National Guard in 1987, two years after graduating. He married, earned a bachelor's degree from Cal State Stanislaus, and went to work as an engineer technician with the Modesto Irrigation District. However, he never left the Guard. CPT Hill would boost moral during deployments and training exercises by exchanging thoughts on BBQ sauces or sharing stories of trips back home.

CPT Hill is survived by his wife and two daughters, one of which is a Folds of Honor Higher Education Scholarship recipient.