Soldier Honored: John E. Mcgee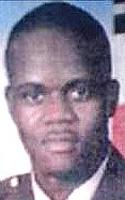 Dates:
May 2, 2005
Hometown:
Branch of Service:
Army
Rank:
Staff Sgt.
Staff Sergeant (SSG) John McGee, 36, was an Alabama Army National Guard member and Mississippi native who was raised in Cary, a tiny town in the Mississippi Delta.  McGee enlisted in the Army when he was 17 and served 8 years before joining the National Guard in 1996. He had completed a program to become a lieutenant but had not yet been commissioned.  SSG McGee was last assigned to the 2101st Transportation Company, Alabama Army National Guard, Camden, AL. He died May 2, 2005, when an improvised explosive device detonated near his convoy vehicle in the area of Diwaniyah, Iraq.

A 1986 graduate of Rolling Fork High School, SSG McGee was a member of the football team and could bring out a smile in anyone he came in contact with.  SSG McGee was a highly respected soldier who always gave his best regardless of the circumstances," said Maj. Gen. Mark Bowen, adjutant general of the Alabama National Guard.

SSG McGee is survived by his two sons and daughter who is a Folds of Honor scholarship recipient.