Soldier Honored: Grant A. Dampier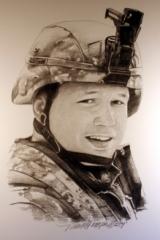 Dates:
May 15, 2006
Hometown:
Rapids, Wisconsin
Branch of Service:
Army
Rank:
Private First Class
Private First Class (PFC) Grant Dampier, 25, of Wisconsin Rapids, Wisconsin, joined the U.S. Army in September, 2004, and was assigned to the 1st Battalion, 8th Infantry Regiment, 3rd Heavy Brigade Combat Team, Fort Carson, CO.  He was deployed a short time later in December, 2004, and was expected to return home in September, 2005.  PFC Dampier died May 15, 2006, when an improvised explosive device detonated near his vehicle during combat patrol operations in Bagdad, Iraq.
A graduate of Merrill Senior High School in 1999, PFC Dampier was a member of the wrestling team. After high school, he worked for Marathon Electric in Wausau, WI, before joining the Army. PFC Dampier enjoyed fishing, watching the Green Bay Packers, hip-hop music, truck racing and his car. However, most of all he loved his wife and his three little girls. He was very proud of them and wanted them to be proud of him.
PFC Dampier is survived by his wife and three daughters, one of which is a Folds of Honor Children's Fund Scholarship recipient.