Soldier Honored: David I. Lyon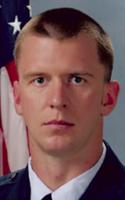 Dates:
December 27, 2013
Hometown:
Sandpoint, Idaho
Branch of Service:
Air Force
Rank:
Capt.
Air Force Captain David Lyon, 28, was a member of the 21st Logistics Readiness Squadron at Peterson Air Force Base. On December 27, 2013 Lyon was killed when a vehicle-born improvised explosive device was detonated near his convoy.

Lyon, a 2008 Air Force Academy graduate, was a three-year letter winner for the Falcons' track and field team. Known as David Lissy during his time with the Falcons' track and field program, the native of Sandpoint, Idaho, served as a team captain during the 2007-08 season.
"My memories of Dave are not how far he threw, or any honors he received, but of his character and leadership," Air Force track and field head coach Ralph Lindeman said. "A fearless and intense competitor, Dave was one of the nicest young men I can ever remember coaching in my 24-plus years at USAFA. He cared deeply about his team and his teammates. Dave was entirely selfless ... always willing to share his time, energy, experience and expertise with his teammates. For that very reason, he was one of the  most outstanding team captains we've ever had here during my tenure. Dave was the epitome of a 'warrior and winner'."

Lyon, who changed his last name after graduation with respect to his adopted parents, is survived by his wife, Dana Pounds-Lyon, a 2006 Academy graduate and two-time NCAA champion in the javelin throw.