Soldier Honored: Jason L. Norton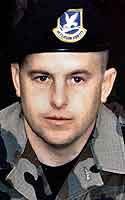 Dates:
January 22, 2006
Hometown:
Miami, Oklahoma
Branch of Service:
Air Force
Rank:
Tech. Sgt.
Born and raised in Miami, Oklahoma, Tech Sergeant Jason Norton, 31, joined the Air Force in March of 1992 and served his country honorably for fourteen years. At Elmendorf AFB, AK, Norton was assigned to the 3rd Security Forces Squadron where he trained and handled the pack of ten military dogs responsible for attack work and bomb sniffing.  His close-knit unit deployed for Iraq in November of 2005.

On January 22, 2006, Norton set off in an armored Humvee to conduct escort duties in the vicinity of Taji, Iraq. His vehicle hit an improvised explosive device, killing Norton instantly. His commanding officer, Chief Master Sergeant William Watson, expressed great grief at Norton's death.  "This has been difficult for us to bear as a unit." he said.  Norton's wife, Cristina, states that her husband always put family first and considered close friends "the family you choose," proving it by taking leave to return to Oklahoma not long before his deployment, to offer condolences to a childhood friend who lost his wife to cancer.

Both of Tech Sergeant Norton's children are Folds of Honor scholarship recipients and are grateful for the opportunities those awards will provide for them.