Soldier Honored: Tracy L. Melvin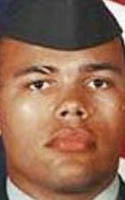 Dates:
Hometown:
Seattle, Washington
Branch of Service:
Army
Rank:
Staff Sergeant
Army Staff Sergeant Tracy L. Melvin, 31, of Seattle, Washington, was assigned to 2nd Battalion, 6th Infantry Regiment, 1st Armored Division, based in Baumholder, Germany. On August 6th, 2006, he died of injuries sustained when an improvised explosive device detonated near his Humvee during combat operations in Ramadi, Iraq in support of Operation Iraqi Freedom. He was on his second tour of Iraq.

Staff Sergeant Melvin played football at Chief Sealth High School in 1992 before transferring to Harry S. Truman High School to graduate in 1995.  He enjoyed the Dallas Cowboys, watching the History Channel, and reading military books. His first duty assignment was to Fort Meyer, Virginia, where he was a member of the 3rd U.S. Infantry Regiment, known as the Old Guard. He had served at Fort Lewis, Washington, and did stints in Panama and Egypt. He is remembered as wanting to be on the battlefield, in the middle of the action, wanting to make a difference.

Ever since he was ten or twelve years old, his goal was to be a solider. From his brother to his father, military service ran in his family. Staff Sergeant Melvin married a mother of three and served with her oldest in the 1st Armored Division. The two were serving together in Iraq at the time of Melvin's death. The solider accompanied his body back to the United States. He leaves behind his wife, Mary.