Soldier Honored: Steven M. Langmack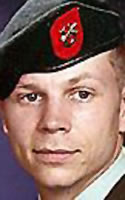 Dates:
Hometown:
Seattle
Branch of Service:
Army
Rank:
Sgt. 1st Class
Army Sergeant 1st Class Steven M. Langmack, 33, of Seattle, was assigned to Headquarters, U.S. Army Special Operations Command, based at Fort Bragg, North Carolina. He died on May 31st, 2005 of injuries sustained from enemy small-arms fire during combat operations in Qaim, Iraq in support of Operation Iraqi Freedom.

In 1990, Sergeant 1st Class Langmack enlisted in the Army in 1990 and served in the first Gulf War in 1991. He qualified as a Green Beret in August of 2001. He served as a senior Special Forces communications sergeant until his reassignment to the Special Operations Command in early 2004. Sergeant 1st Class Langmack was also a veteran of Operations Desert Storm in Southwest Asia, Uphold Democracy in Haiti, Enduring Freedom in Afghanistan and Iraqi Freedom in Iraq.

He is survived by his wife, Rachaelle, his two sons, and his parents, whom are still in Seattle.