Soldier Honored: Ryan J. Baum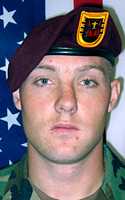 Dates:
Hometown:
Aurora, Colorado
Branch of Service:
Army
Rank:
Sergeant
Army Sergeant Ryan J. Baum, 27, of Aurora, CO, known as "Doc Baum," was assigned to the 3rd Battalion, 509th Infantry Regiment, 4th Brigade Combat Team, 25th Infantry Division, Fort Richardson, Alaska. On May 18th, 2007, Baum died of wounds sustained when his unit came in contact with enemy forces using small-arms fire in Karmah, Iraq on a volunteer mission. He was to return home the next day for the birth of his first child.

Sergeant Baum grew up in Aurora, Colorado and attended Smoky Hill High School where he played lacrosse. He enjoyed camping, climbing, kayaking, boating, and fishing. He was remembered as a typical "Colorado man." In 2003, while he was attending college, he had been accepted into the Army. He went to basic training at Fort Sill, Oklahoma before he headed to Combat Medical School in San Antonio, Texas. There, he met his wife. After graduating from Ranger school, Sergeant Baum was accepted into the Special Operations Combat Medic School at Fort Bragg, North Carolina. In 2005, he graduated from the Army's elite medical training facility in Fort Benning, Georgia. The two were reassigned to Fort Richardson, Alaska in June of 2006, and it was there that Baum began training for his deployment to Iraq. He was selected to be senior instructor of the Alaska branch of pre-Ranger school.

Sergeant Ryan J. Baum was described as a fine soldier, an amazing person who was talented, dedicated, and proud. He left behind his wife, parents, his brother, and his sister.