Soldier Honored: Joseph T. McCloud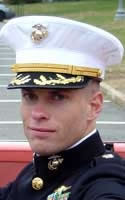 Dates:
Hometown:
Grosse Pointe Park, Michigan
Branch of Service:
Marine Corps
Rank:
Major
Major Joseph McCloud, 39, of Grosse Pointe Park, Michigan, was assigned to the 2nd Battalion, 3rd Marine Regiment, 3rd Marine Division, III Marine Expeditionary Force served in the Marine Corps for 17 years before his death on December 3, 2006. Major McCloud died when the CH-46 helicopter he was in crashed-landed into a lake in the Anbar Provence. The event is still under investigation.

Major McCloud is noted for having served in the Middle East twice, once during the Persian Gulf War in 1991 and again in Iraq during Operation Iraqi Freedom.  He not only had a career in the USMC, but worked at the Pentagon, Capitol Hill, and as an instructor at Marine Corps Officer Candidate School. Major McCloud is survived by his wife and three children.