Soldier Honored: Joseph J. Altmann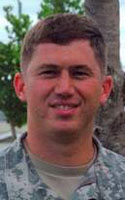 Dates:
Hometown:
Marshfield, Wisconsin
Branch of Service:
Army
Rank:
Staff Sergeant
Army Staff Sergeant Joseph J. Altmann, 27, of Marshfield, Wisconsin, was assigned to the 2nd Battalion, 27th Infantry Regiment, 3rd Brigade Combat Team, 25th Infantry Division, based in Schofield Barracks, Hawaii. Staff Sergeant Altmann died of injuries he suffered when insurgents attacked his unit with small arms fire on December 25th, 2011, at FOB Bostick, Aghanistan.

Staff Sergeant Altmann graduated from Columbus Catholic High School in 2003 where he played football and baseball. Others knew him as being "an all-around nice guy who had many friends and enjoyed sports and outdoor activities." After high school, Altmann chose to go to college where he became interested in the medical field. While he was attending the University of Wisconsin – Marshfield/Wood County, he met with a recruiter and decided that his interests would serve him and his country well as a military medic.

He was remembered as being "quiet, but you knew you could count on him for anything. He was a genuine person that cared about other people." His medals include the NATO Medal, Bronze Star Medal, and Purple Heart, posthumously. He leaves behind his wife, Nikki.