Soldier Honored: John W. Marcum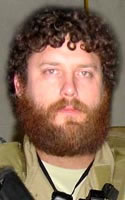 Dates:
Hometown:
Flushing, Michigan
Branch of Service:
Navy
Rank:
Sr. Chief Special Warfare Operator
Navy Senior Chief Special Warfare Operator John W. Marcum, 34, of Flushing, Michigan, was assigned to Naval Special Warfare Development Group, out of Dam Neck, Virginia. He died September 12th from injuries sustained the day before conducting combat operations in Bagram, Afghanistan.

He graduated from Flushing Senior High School and enlisted in the Navy in 1991. Marcum was considered destined to join the military, according to one of his high school administrators. He joined the SEALs after completing basic training. He transferred to the Special Warfare Development Group in 2000 and won multiple combat awards, including four Bronze Stars. His military career consisted of multiple combat deployments in support of joint U.S. Army and NATO Operations.

Marcum is remembered as the kind of person that could, "light up your day." He left behind a wife and one daughter.