Soldier Honored: Joel E. Baldwin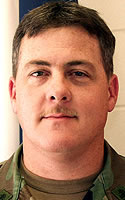 Dates:
Hometown:
Republic of Panama
Branch of Service:
Navy
Rank:
Chief Petty Officer


Navy Chief Petty Officer Joel Baldwin was part of the Naval Mobile Construction Battalion 7 out of Gulfport, Mississippi. Chief Baldwin, 37, was killed on December 21, 2004 when a suicide bomber detonated his device in a mess hall at Forward Operating Base Marez in Mosul, Iraq. 22 people were killed and 69 wounded in the explosion.

Chief Petty Officer Baldwin was born in the Republic of Panama, graduated from high school in 1987, joined the Navy in 1988 and married his sweetheart, Claudia in 1989. A Seabee who loved to build both in and out of uniform. He is remembered for his strong leadership, civic involvement, and skilled teaching. The Seabees were spread all over Iraq implementing infrastructure while Baldwin was in charge of general engineering evaluation. Prior to his deployment, Chief Petty Officer Baldwin organized the construction of a playground at his daughter's elementary school.