Soldier Honored: Jerry M. Durbin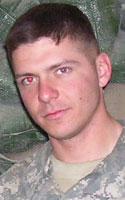 Dates:
Hometown:
Spring, Texas
Branch of Service:
Army
Rank:
Staff Sergeant
Staff Sergeant Jerry M. Durbin, 26, of Spring, Texas served the US Army for six years. He joined the Army in March 2001 and arrived at Fort Campbell in November of 2004. He was assigned to the 2nd Battalion, 502nd Infantry Regiment, 2nd Brigade Combat Team, 101st Airborne Division, based in Fort Campbell, Kentucky. He was on foot patrolling during combat operations when an improvised explosive device detonated near him. Staff Sergeant Durbin was killed while serving during Operation Iraqi Freedom in Baghdad, Afghanistan in January of 2006.

He graduated from Nimitz High School, where he was the quarterback of the football team, ran track, and played baseball. After high school, he attended Kingwood College before enlisting at age 21. By the age of 26, he had become a Staff Sergeant in an air assault unit and had his eyes on becoming a member of the elite Delta Force. He had served two tours in the Middle East and had been deployed for the third time. He is remembered as being "a hero, no doubt about it."

Staff Sergeant Durbin left behind his wife, Janelle Durbin and three children.