Soldier Honored: George Alexander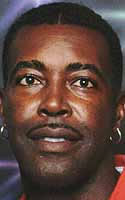 Dates:
Hometown:
Killeen, Texas
Branch of Service:
Army
Rank:
Staff Sergeant
Staff Sergeant George Alexander, 34, from Killeen, Texas was assigned to the 1st Battalion, 15th Infantry Regiment, 3rd Brigade, 3rd Infantry Division and was based in Fort Benning, Georgia. Staff Sergeant Alexander lost his life during Operation Iraqi Freedom in October of 2005 when an improvised explosive device detonated near his Bradley Fighting Vehicle in Samarra, Iraq.

He graduated from Chilton County High School in 1989 and spent two years working as a construction laborer before joining the military in October 1991. He had served in Kuwait and Saudi Arabia during his fourteen year military career. Staff Sergeant Alexander had been serving his third tour of duty. He left behind his wife and their two children.