Soldier Honored: Delmar White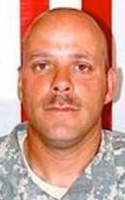 Dates:
Hometown:
Wallins, Kentucky
Branch of Service:
Army
Rank:
Staff Sgt.
Army Staff Sergeant Delmar White, 37, of Wallins, Kentucky, was assigned to the 2nd Battalion, 138th Field Artillery, Kentucky Army National Guard, based in Carrolton, Kentucky. Staff Sergeant White died on September 2nd, 2007, of wounds sustained from an improvised explosive device. Previously serving in the Marines, White was also a veteran of Operation Desert Storm.

Sergeant White was a former corrections officer for Lexington Fayette Urban County Government before leaving in 2005 to help recruit for the National Guard. The minister who gave White's eulogy recalled a story of White wearing his uniform at a Cincinnati Labor Day activity years ago. A man asked White, "Why would you lay down your life for people you don't even know?" Before Staff Sergeant White could answer, a small boy asked White if he could shake his hand. White then told the man, "That's why I fill this uniform."

He was remembered as "a solider of his Lord and a solider of his country." He leaves behind a wife and their two children.