Soldier Honored: David M. Spellacy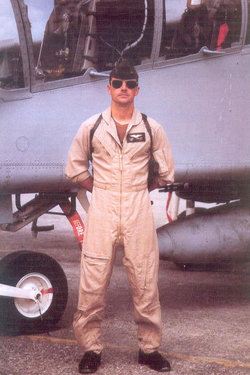 Dates:
Hometown:
Branch of Service:
Marine Corps
Rank:
Captain
Marine Captain David M. Spellacy, a navigator and bombardier, was the observer along with another who was the pilot of an observation aircraft flying as Forward Air Control. On February 25, 1991, the aircraft was shot down by enemy fire. He lost his life one day before the birth of his youngest child and two days before the end of the war.

He enlisted in the Marine officers training program after graduating from Ohio University in 1984. He graduated from naval flight officer training in Pensacola, Florida in 1990. He left Camp Lejeune, North Carolina in 1991.

He is described as an optimistic, charismatic, and competitive man. His wife remembers him as a "wonderful man, a wonderful husband, a wonderful father and a great Marine." He left behind a wife and two children.