Soldier Honored: David D. Julian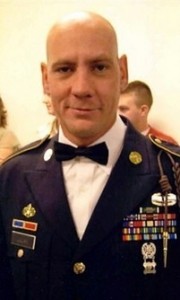 Dates:
Hometown:
Evanston, Wyoming
Branch of Service:
Army
Rank:
Staff Sergeant
Staff Sergeant David was assigned to the 1st Battalion, 64th Armor Regiment, 2nd Brigade Combat Team, 3rd Infantry Division, based in Fort Stewart, Georgia. Staff Sergeant Julian died on March 10, 2008 when a suicide bomber detonated an explosive device.

Staff Sergeant Julian grew up in Evanston, Wyoming and graduated from high school in 1994. In May of 1998, he joined the Army. During the ten years that he served, Julian deployed to North Korea, Macedonia, and did three tours in Iraq. While Staff Sergeant Julian was stationed in Ft. Stewart, Georgia, he met the love of his life, Erin. They married and had a little girl in 2007. He was granted 18 days of leave for his daughter's birth before returning to combat operations. David was a very detail oriented person, a true military man, a hunter and a fisher, who loved his family deeply.