Soldier Honored: Cesar B. Ruiz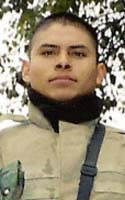 Dates:
Hometown:
San Antonio, Texas
Branch of Service:
Marine
Rank:
Sergeant
Marine Sergeant Cesar B. Ruiz was assigned to Marine Forces Reserve in New Orleans, had enlisted in the Marines once in January 2002, after getting out he began to work with his father as a bricklayer for three years. He began to miss the Marines and signed on again after a three year absence.

While in Helmand Province, Afghanistan, Sergeant Ruiz lost his life from a land mine on October 31, 2009, while supporting combat operations. A combat engineer, Ruiz was serving his second tour in Afghanistan. He had deployed to Afghanistan previously from November 2004 to June 2005.
Sgt. Cesar B. Ruiz of San Antonio, Texas is a 2001 Taft High School graduate. Remembered as being assertive and outgoing, Cesar was a happy, playful child and grew to be a strong-willed man. He loved to tell jokes and make people laugh. Ruiz was always proud to wear his dress blues, and would use any formal occasion to put them on. His personal decorations include a Purple Heart. Sergeant Cesar B. Ruiz is survived by his wife, Kimberly, and son, Joshua.