Soldier Honored: Bryan L. Quinton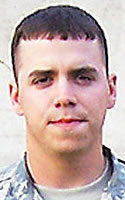 Dates:
Hometown:
Sand Springs, Oklahoma
Branch of Service:
Army
Rank:
Specialist
Specialist Bryan Quinton, 24, from Sand Springs, Oklahoma was assigned to the 5th Engineer Battalion, 1st Engineer Brigade, based in Fort Leonard Wood, Missouri. He lost his life, while serving on Operation Iraqi Freedom, in May of 2006 when an improvised explosive device detonated near his RG-31 Mine Protected vehicle in Baghdad. Specialist Quinton was not the only U.S. Soldier killed that day. Alongside him was comrade Staff Sergeant Gavin B. Reinke.

"This is an American hero, this guy was a leader," is how Specialist Quinton is remembered by all. His wife was given his Purple Heart and his Bronze Star. He leaves her behind as well as one young daughter.