Soldier Honored: Bradley W. Atwell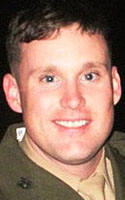 Dates:
Hometown:
Kokomo, Indiana
Branch of Service:
Marine
Rank:
Sergeant
Sergeant Bradley W. Atwell, 27, of Kokomo, Indiana, was assigned to Marine Aviation Logistics Squadron 13, Marine Aircraft Group 13, 3rd Marine Aircraft Wing. The Unit was based out of Marine Corps Air Station in Yuma, Arizona. Sergeant Atwell paid the ultimate sacrifice on September 15, 2012 during Operation Enduring Freedom when insurgents breached his base at Camp Bastion, Afghanistan, using small arms, suicide vests and rocket propelled grenade fire. One other Marine was killed and nine other U.S. personnel were wounded.

Sgt. Atwell was an aviation electrician but when his base was breached by heavily armed insurgents, he immediately rushed to defend his brothers-in-arms, even though he was missing a helmet and bullet proof vest.  Brad Atwell's actions earned him the Purple Heart and Navy Commendation Medal.