Soldier Honored: David H. Stewart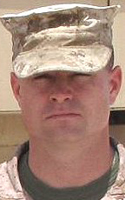 Dates:
Hometown:
Stafford, Virginia
Branch of Service:
Marine Corps
Rank:
Staff Sergeant
Staff Sergeant David H. Stewart, 34, died on June 20, 2014 while conducting combat operations in Helmand province, Afghanistan.  The Pentagon stated that he died as a result of what they call a hostile incident.  He was assigned to 2nd Combat Engineer Battalion, 2nd Marine Division, II Marine Expeditionary Force, Camp Lejeune, North Carolina.



Staff Sergeant Stewart, was a platoon sergeant from Stafford, Virginia, who joined the Marine Corps in June 2004.  Staff Sergeant Stewart, a North Stafford High School graduate, was on his second deployment to Afghanistan.  He also completed three tours of duty in Iraq.  He was promoted to staff sergeant in 2010.



David Stewart left behind his wife, Kristine, and two young children, Mackenzie and Marshall.