Soldier Honored: Robert J. Chiomento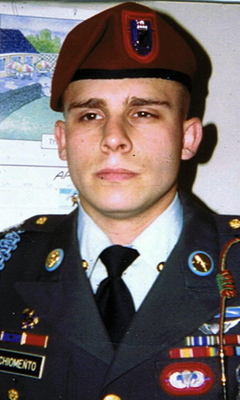 Dates:
Hometown:
New Jersey
Branch of Service:
Army
Rank:
Staff Sergeant
Staff Sergeant Chiomento, assigned to the 2nd Battalion, 4th Infantry Regiment, 4th Brigade Combat Team, 10th Mountain Division out of Fort Polk, Louisiana. During the start of Operation Enduring Freedom, Chiomento was attached to a unit that would not be deploying soon. Although Robert had a wife and two daughters, he felt that he needed to be deployed to support his friends and fellow warriors in harm's way. He transferred to an infantry unit heading to a dangerous part of Afghanistan in March 2006. He lost his life on July 17th, 2006 in Khwaya Ahmed, Afghanistan, when his patrol encountered enemy forces using rocket-propelled grenades and mortars.

Staff Sergeant Robert Chiomento, of New Jersey, grew up understanding the life of a soldier – his father was an Army Staff Sergeant as well. Chiomento followed in his father's footsteps by joining the Army in 1991. His first post was at Ft. Wainwright in Alaska, where he met his wife Staci. Robert later transferred to Fort Bragg and Fort Polk. He leaves behind his wife and their two daughters.