Soldier Honored: Nicholas Dimas Parada- Rodriguez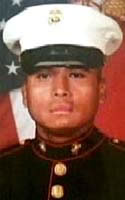 Dates:
Hometown:
Springfield, Virginia
Branch of Service:
Marine Corps
Rank:
Corporal
Marine Corporal Nicholas Dimas Parada-Rodriguez, 29, was assigned to 1st Battalion, 6th Marine Regiment, 2nd Marine Division, II Marine Expeditionary Force, Camp Lejeune, N.C. Native of El Salvador, Parada-Rodriguez came to the United States with his immigrant parents and siblings. Before he joined the Marines in January of 2007, he was in the Navy, and served a tour in Afghanistan. Between his service, he held a civilian job. Nicholas was promoted to the rank of corporal on April 1st, 2009.

In December 2009, he deployed for his third tour, and second tour with the Marines. On May 16, 2010, Corporal Parada-Rodriguez died conducting combat operations in support of Operation Enduring Freedom in Helmand Province, Afghanistan.

Corporal Parada-Rodriguez attended Robert E. Lee High School in Springfield, Virginia, graduating in 1999. He is remembered as having a big heart, being a leader, and always looking out for others. He is survived by his wife, two sisters, one brother, several nieces and nephews, and his mother.