Soldier Honored: Eric J. Lindstrom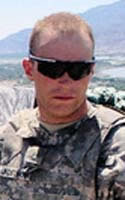 Dates:
Hometown:
Flagstaff, Arizona
Branch of Service:
Army
Rank:
Staff Sergeant
Staff Sergeant Eric Lindstrom, 27, of Flagstaff, Arizona served two tours in the U.S. Army. He was assigned to the 1st Battalion, 32nd Infantry Regiment, 3rd Brigade Combat Team, 10th Mountain Division based in Fort Drum, New York, serving during Operation Enduring Freedom, lost his life July 2009 in Barge Matal, Afghanistan when insurgents attacked his dismounted patrol with small arms and indirect fire.

Staff Sergeant Lindstrom graduated from Flagstaff High School in 1999. He then joined the Army and deployed to Iraq before following in his father's footsteps as a Flagstaff police officer. He served in the Flagstaff police department for four years before re-enlisting in the Army. "He had a burning desire to serve," Police Chief Brent Cooper said. Staff Sergeant Lindstrom left behind wife, Tara and their twin daughters.