Soldier Honored: Taft V. Williams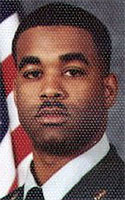 Dates:
Hometown:
New Orleans
Branch of Service:
Army
Rank:
Sergeant
Army Sergeant Taft V. Williams, 29, of New Orleans, was a mechanic assigned to the 3rd Armored Cavalry Regiment in Fort Carson, Colo. Sergeant Taft lost his life during Operation Iraqi Freedom when his convoy rolled over three pipe bombs on the way to Baghdad August 12, 2003.



Sergeant Williams, a 10-year Army veteran, ran the Maintenance Troop, Support Squadron, 3rd Armored Calvary Regiment and was posthumously promoted to Staff Sergeant. Sergeant Williams joined JROTC in high school and enlisted in the Army Fall of 1993, shortly after graduation.  Sergeant Williams became a generator mechanic and was stationed in Bosnia, serving his first term with the 3rd Armored Regiment in 1997. He left behind his wife and their son.