Soldier Honored: Paul Joshua Flynn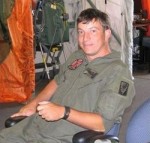 Dates:
Hometown:
Whitsett, North Carolina
Branch of Service:
Army
Rank:
Chief Warrant Officer 2
Chief Warrant Officer 2 Flynn was assigned to the 4th Squadron, 6th US Air Cavalry Regiment, Fort Lewis, Washington. He was piloting a Black Hawk helicopter that was scheduled to pick up soldiers after completing an overnight mission in Multaka, Iraq. After picking up the other soldiers from the dangerous area, the helicopter lifted off and immediately experienced a mechanical failure. On August 22, 2007 all 14 service members aboard the Black Hawk died.

Paul, who went by Josh, of Whitsett, North Carolina joined the Army in 1997. He graduated from the Warrant Officer Orientation Course and the Rotary Wing Aviation Course in 2003. After, Chief Warrant Officer 2 Flynn completed the UH-60 Black Hawk aviator qualification course in 2004 along with other required military aviation schools. His deployment in 2007 to Iraq was his first tour in a combat theater. Chief Warrant Officer 2 Josh Flynn was 28 when he died, leaving behind his son who was only six at the time.