Soldier Honored: Robert Eugene Colvill Jr.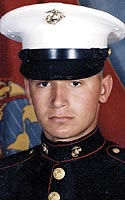 Dates:
Hometown:
Anderson, Indiana
Branch of Service:
Army
Rank:
Sergeant
Army Sergeant Robert Eugene Colvill Jr. joined the Marine Corps in 1999 and left as a sergeant after graduation. After a couple of years, he enlisted in the Army. He was assigned to 1st Battalion, 26th Infantry Regiment, 1st Infantry Division out of Schweinfurt, Germany. He served in Iraq for four months and was a Staff Sergeant in the Army for two years. Previously, he had served in the Marine Corps for a total of eight years. While looking for survivors in the Iraqi National Headquarters after it was destroyed by a suicide car bomber, Sergeant Colvill Jr. was killed when it came under mortar attack. He died on July 8, 2004 in Baghdad, Iraq, at the age of 31.

Sergeant Colvill Jr., was born on November 3, 1972, in Anderson, Indiana. He graduated from Madison Heights High School in 1991 in a city northeast of Indianapolis. Sergeant Colvill Jr.'s sister had remembered him wanting to be a part of the military since he was in the ninth grade. He is survived by his wife and their three children. His wife and two of his children live in Germany, where he was stationed before his deployment, and his other son lives in California. Colvill Jr. is remembered as being a leader and always up for a challenge.