Soldier Honored: Christopher R. Webb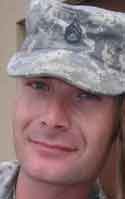 Dates:
Hometown:
Winchester, California
Branch of Service:
Army
Rank:
Staff Sergeant
Army Staff Sergeant Christopher R. Webb, 28, of Winchester, California, was assigned to 2nd Battalion, 5th Calvary Regiment, 1st Brigade, 1st Calvary Division, based in Fort Hood, Texas. While serving during Operation Iraqi Freedom, on March 7th, 2007, he was killed when an improvised explosive device detonated near his vehicle during combat operations. He was one of three soldiers that were killed in the blast.

Although Webb did not finish high school, he enlisted in the Army National Guard, earned his GED, and transferred into the Regular Army. He came from a family of veterans, his stepfather being a former Marine and Vietnam veteran sniper, along with grandfathers who had served as well. His mother was also an Army veteran.

His grandfather remembers him as being an "easygoing kid – never any trouble. He was a God-loving young man. He was just an All-American boy." Staff Sergeant Webb left behind his wife and a six month old daughter. His wife, Shalan, is a Folds of Honor Immediate Use recipient.