Soldier Honored: Jeremy A. Katzenberger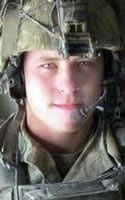 Dates:
Hometown:
Weatherby Lake, Missouri
Branch of Service:
Army
Rank:
Staff Sergeant
On June 14, 2011, Staff Sergeant Jeremy A. Katzenberger, 26, of Weatherby Lake, Missouri, was killed during a heavy-fire fight with enemy forces while conducting a mission in the Paktika Providence of Afghanistan. Jeremy was a squad leader within B Company, 1st Battalion, 75th Ranger Regiment. Staff Sergeant Katzenberger was on his eighth deployment.

Staff Sergeant Katzenberger enlisted in the Army in October of 2004, completing One Station Unit Training at Fort Benning, Georgia, as an infantryman. His military education includes, Basic Airborne Course, Ranger Assessment and Selection Program, U.S. Army Ranger Course, Warrior Leader Course, and Jumpmaster.

Posthumously, Jeremy was awarded the Bronze Star Medal, Meritorious Service Medal and Purple Heart. He left behind his wife, Colleen, and one son. At the time of Jeremy's death, their son was seven months old.