Fallen Soldier: Michael Egan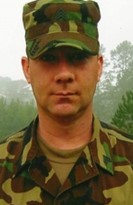 Dates:
Died September 19, 2005
Hometown:
Philadelphia, Pennsylvania
Branch of Service:
National Guard
Rank:
Sergeant
Player:
Crista Izuzquiza
Army National Guard SGT Michael Egan, 36, of Philadelphia died September 19, 2005 serving during Operation Iraqi Freedom, when an improvised explosive device detonated near his vehicle during patrol operations in Ramadi, Iraq. SGT Egan was assigned to the 1st Squadron, 104th Cavalry Regiment, 28th Infantry Division, Pennsylvania Army National Guard, Philadelphia.

From 1991-1999 SGT Egan was in the U.S. Marine Corps, where he served in the Persian Gulf War, as well as in conflicts within Haiti, Liberia, and Bosnia.

In 1999, he returned home to live a civilian life and ended up marrying and having a family. In 2003, SGT Egan enlisted in the Pennsylvania National Guard Reserves. In January, 2005 AFT Egan was sent to Mississippi and California for training. returned home for ten days and then was deployed to Iraq along with the rest of his unit. He served in Iraq for a year before he was killed.

SGT Egan was well remembered by many as someone who had a great smile and fabulous personality. He was witty. He came in the room and his personality was just golden." He was also very humble and often described as the epitome of peacefulness, a very gentle person.

SGT Egan is survived by his wife, Maria, and daughter, Samantha.