Fallen Soldier: Luis Oliver-Galbreath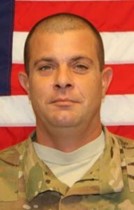 Dates:
Died August 16, 2012
Hometown:
San Juan, PR
Branch of Service:
Army
Rank:
Sergeant
Player:
Elise Bishop
Army Sgt. Luis A. Oliver-Galbreath, 41, of San Juan, Puerto Rico, was assigned to 2nd Battalion, 25th Aviation Regiment, 25th Combat Aviation Brigade, 25th Infantry Division, Schofield Barracks, Hawaii. While serving during Operation Enduring Freedom, Oliver-Galbreath was killed on August 16th, 2012, in a Black Hawk helicopter crash northeast of Kandahar, Afghanistan. He was killed alongside six fellow soldiers.
Sgt. Oliver-Galbreath joined the Army on January 25, 2003 and attended Advanced Individual Training at Fort Eastis, Virginia. In December of that year, he became a UH-60 Helicopter Repairman. After he earned a Military Occupational Specialty of 15T UH-60L, Crew Chief, he was assigned to the Republic of Korea where he served in the 602nd Aviation Support Battalion and Bravo Company, 2-2nd Aviation Regiment at both Camp Stanley and Seoul Air Base.
In 2008, he was assigned to Bravo Company "KNIGHTHAWKS", 2-25th Aviation Regiment at Wheeler Army Airfield, Hawaii. In September 2009, he was deployed with the "KNIGHTHAWKS" to Iraq as a UH-60I, Crew Chief. Then, in January 2012, he was attached to Alpha Company "BLACKJACKS", 2-25th Aviation Regiment and deployed as a UH-60L Crew Chief in support of Operation Enduring Freedom..
Among his numerous awards and decorations are the Air Medal, Army Achievement Medal and Meritorious Unit Commendation Medal with two Oak Leaf Clusters. He is survived by his wife, Susan, and his three daughters- Sophia, Marina and Maria.