Fallen Soldier: Michael McNulty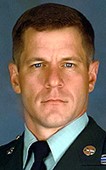 Dates:
Died June 17, 2005
Hometown:
Knoxville, TN
Branch of Service:
Army
Rank:
Master Sergeant
Player:
Tillie Claggett
Master Sgt. Michael Louis McNulty, 36, of Knoxville, Tenn, was assigned to Headquarters, U.S. Army Special Operations Command, Fort Bragg, N.C.. He was killed June 17, 2005, while conducting combat operations in Qaim, Iraq.
After graduating from Larkin High School in Elgin, Illinois, Master Sgt. McNulty enlisted in the U.S. Army and was assigned to Company C, 2nd Battalion, 2nd Infantry, Fort Lewis, Washington. He briefly left the service but re-enlisted in 1994 and served with the 327th Infantry Regiment, Fort Campbell, Kentucky, and later, the 27th Infantry Regiment and 25th Infantry Division (Light), Schofield Barracks, Hawaii as a rifle squad leader, an instructor and a reconnaissance squad leader. He completed several notable courses, including the Air Assault and Ranger Courses. In 2000, McNulty joined the Army's elite Delta Force and in 2003, participated in the U.S. raid that resulted in the capture of Saddam Hussein- a historical event he was "glowing" to have been present for.
In a statement, McNulty's family said, "Michael was a loving husband, a dedicated and proud father of four, and a caring son. He was also as soldier who unwaveringly placed our country before himself."
Master Sgt. McNulty was posthumously promoted to the rank of master sergeant and awarded the Bronze Star for valor, the Purple Heart and the Defense Meritorious Service Medal.