Fallen Soldier: Michael Slebodnik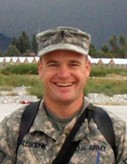 Dates:
Died September 11, 2008
Hometown:
Gibsonia, PA
Branch of Service:
Army
Rank:
Chief Warrant Officer 4
Player:
Antonia Zacharovska
CWO4 Michael Slobodnik,39, of Gibsonia, PA, was assigned to 2nd Battalion, 17th Cavalry Regiment, 101st Combat Aviation Brigade, 101st Airborne Division (Air Assault), Fort Campbell, Ky. He died Sept. 11, 2008, at Bagram Airfield, Afghanistan, of wounds sustained near Forward Operating Base Nagil, Afghanistan, when the aircraft he was piloting received enemy fire.
CWO4 Slebodnik joined the Army after graduating from Richland High School in 1987, and had been a helicopter pilot almost the entire time since his enlistment. He had been in Afghanistan since January and was scheduled to return to the U.S. the next month. He had served five tours in Iraq since 2003 and was a veteran of Operation Desert Storm. He was planning to retire from the military and wanted to return to western Pennsylvania, get his college degree and become a math teacher.
Growing up, CWO4 Slebodnik was a talented artist and a math whiz, but his primary interest was the military. "Mickey," as his family called him, wore camouflage, played with army men, painted models and staged battles. He was so eager to join the Army that he went through a delayed entry program and enlisted at 17. CWO4 Slebodnik is buried in Arlington Cemetery.
CWO4 Slebodnik is survived by his wife, four children, and two stepsons.