Fallen Soldier: Wesley C. Fortenberry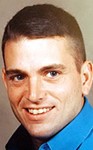 Dates:
Died April 11, 2004
Hometown:
Woodville, Texas
Branch of Service:
Army
Rank:
Chief Warrant Officer 3
Player:
Garrett Martin
Army CWO3 Wesley Charles Fortenberry was killed April 11, 2004 when his AH-64 Apache helicopter was shot down by insurgents just west of Baghdad, Iraq, which was protecting a fuel convoy headed toward the violence-racked city of Fallujah.

Fortenberry had a variety of duties throughout his career. He served in the 82nd Airborne, became a Ranger and worked in Alaska before joining a warrant officer program to fly helicopters.
"Our family, my three boys and me together, have 58 years in the military," Kenneth Fortenberry commented. "We've all done our turn. We've all had to go through what Chuck went through when he left on that mission. Think of a man with three children and a wife who doesn't know whether he's coming back. No one knows loneliness like that."

"He told me he was only flying at night, but things had gotten real messy the last two or three days," Fortenberry said, adding that he learned about his son's final mission via e-mail. "He was fending (attackers) off and they either got him with a (rocket-propelled grenade) or a ground-to-air missile, and the (Apache) hit the ground and exploded."

"I've been told if it hadn't been for Chuck Fortenberry and his crewmate, there would have been a lot more Americans killed," Kenneth Fortenberry said.

CWO3 Fortenberry, is survived by a wife and two sons.