Player: Cooper Hrabak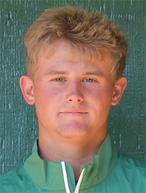 Hometown:
Medina
University:
Methodist University
Graduation Year:
2024
Area of Study:
Business Administration
Hrabak currently ranks 633 in the Scratch Players World Amateur Rankings and 874 in the World Amateur Golf Ranking. In the GolfStat.com Composite Golfstat Cup rankings of all college golfers, he ranks 110th overall, while holding the second-best adjusted stroke average (70.03) among D-III players.

At Methodist, Hrabak helped the Monarchs win their NCAA-record 13th D-III National Championship title this past May. In addition to being a two-time All-American, he also earned a pair of PING All-Region honors in 2021 and 2022.

In the 2022 postseason, Hrabak earned his second (2021, 2022) USA South first-team All-Conference and All-Tournament team awards. The sophomore finished in a tie for 10th place at the NCAA 2022 D-III men's golf championship. He competed in 10 tournaments overall with eight top 10 finishes highlighted by three wins. Overall, he posted a 71.5 scoring average through 29 rounds. He concluded his Methodist career having played in 49 rounds with a 72.0 scoring average.

Hrabak was named the 2021 NCAA D-III Phil Mickelson Outstanding Freshman of the Year after finishing as runner-up at the NCAA National Championship. He led Methodist with a 72.7 scoring average in 10 rounds and posted four top-5 finishes.