Player: George Langham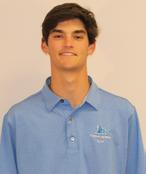 Hometown:
Peachtree City, Georgia
University:
University of Georgia
Graduation Year:
2025
Area of Study:
Sports Management
Through three seasons at the College of Coastal Georgia, Langham established himself as one of the best NAIA golfers in the nation, being recognized as an NAIA First Team All-American this past season and an NAIA Third Team All-American his freshman and sophomore seasons. He ended his career with the Mariners as the third-ranked men's golfer in NAIA with an adjusted scoring average of 71.49.

"We're very excited to welcome George to Athens," said head coach Chris Haack. "He comes from a golf family. His dad was a former PGA Tour player and Georgia Bulldog. He had a nice career at College of Coastal Georgia, where he played under the tutelage of another former Georgia player Mike Cook, who was an All-American with our program. George has learned from some great players and will be a great addition for us."

Langham, a Peachtree City native, finished his junior season posting consecutive two-under-par rounds at the NAIA National Tournament, going -4 in the event and leading the team to a T-7th finish. The team finished the year ranked eighth in the nation.